Event Start Date:
January 29, 2019
Event End Date:
January 29, 2019
Event Venue:
Fort Street Mall
Human Trafficking Awareness Day Walk & Fair!
Check-In Time: 8:30am Start Time: 10:00am End Time: 1:00pm
Location: Fort Street Mall Cost: FREE!
Here are a few ways to join us:
Volunteer for the event. Please register and contact volunteer@hoolanapua.org.

At your place of business have everyone walk outside with signage at 12:00pm and wave signs for 17 minutes. WHY 17 MINUTES? It is the last age of being a minor.

Attend the event in town at Fort Street Mall. Have an educational/informational booth promoting your place of business. Booth space is limited.
Parking:Ali'i Place 1099 Alakea St; WalMart $20 validation; 1032 FSM; off of Bethel St; Mark's Garage; 21 Chaplain Lane off of Bethel St; Century Square; 1188 Bishop St; Hale Pauahi Chinatown Municipal Parking; 1-35 N Beretania St; Public Parking; 15 S Beretania St; Municipal Parking 918 Smith St
Contact: Questions? Call Hoʻōla Nā Pua at (808) 445-3131
It's that time of year where we have the opportunity to come together to raise awareness and to educate the community about the issue of Human Trafficking that continues to grow in our state and our country.
By Presidential Proclamation, January is National Slavery and Human Trafficking Prevention Month. Please join us in supporting the Department of Homeland Security's "Blue Campaign" on Tuesday, January 29th at Fort Street Mall from 10:00AM to 1:00PM for the fourth annual Human Trafficking Awareness Walk & Fair. We will have music, booths, speakers, and sign waving.
Our keiki, our community, our opportunity to make a difference!
Together as one community, we will collectively bring awareness to the world wide crisis also known as modern-day slavery, which sadly occurs every day in Hawai'i.
Together we will bring light to the darkness and increase awareness of this critical issue, and engage and empower others to take a stand against human trafficking on our islands.
Together we can make a difference.
Together we can unite in one voice to activate positive systematic change in our community.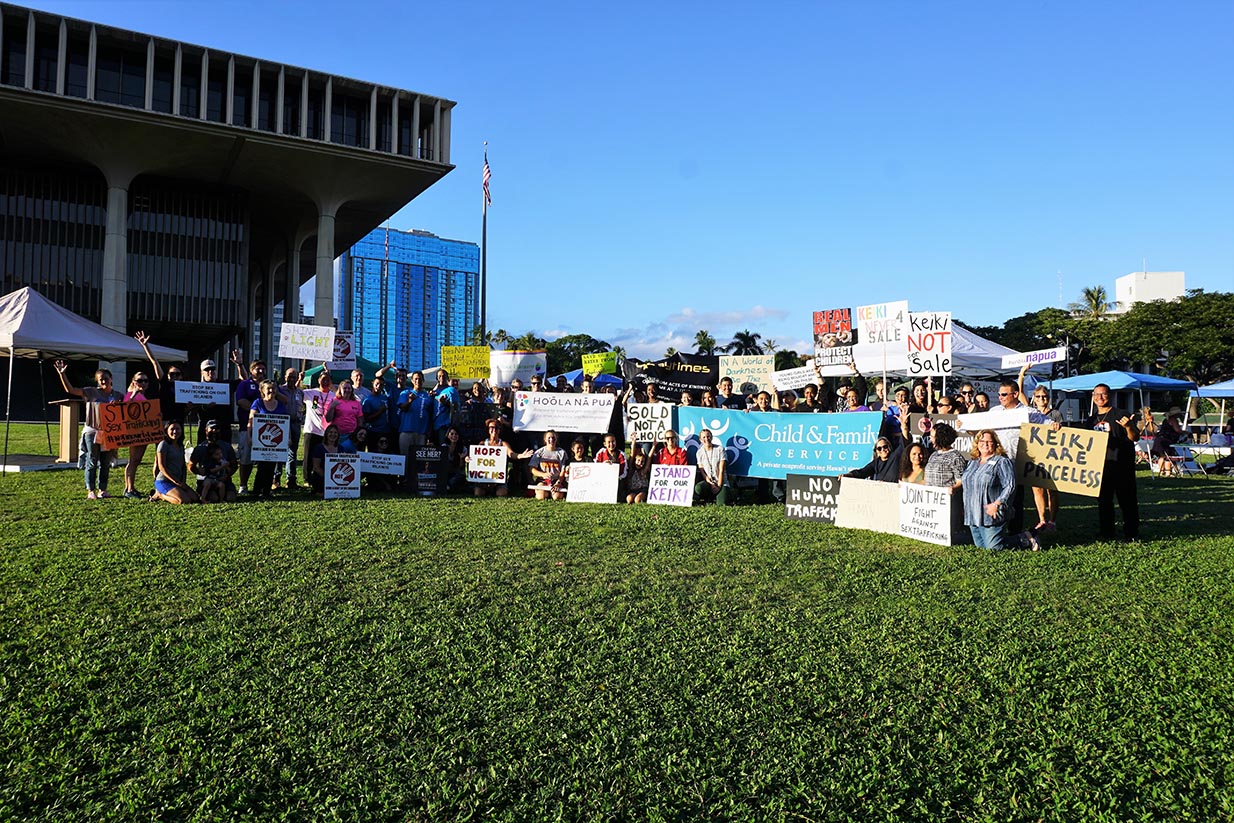 What to Wear:
Your agency's t-shirts or support the Blue Campaign's Wear Blue Day in solidarity of victims of this crime.
What to expect:
Booths are available at no cost to showcase your organization
This year we are partnering with the Fort Street Mall Tuesday Market. In addition to the walk and rally, complimentary space for booths will provide a platform to showcase your organization's mission, services, accomplishments and aspirations around the work you are engaged in within our community. Please reserve your space by registering at the above link and by checking the box that you are requesting a booth site. There is limited space, so booths are reserved on a first come basis. Once confirmed, simply bring your own tent, table, chairs and communication materials on the day of the event. Please note that fundraising or sale of merchandise is prohibited on FSM Grounds.
Sign Waving: Participants are encouraged to create and bring your own signs for waving. Minimum of three (3) additional volunteers (per organization) for sign waving are requested to help make a larger impact.
If you would like to participate in the planning process, we welcome the support. Please check the box on the registration form.
More details will be forthcoming after registration and closer to the event date.