Event Start Date:
August 18, 2018
Event End Date:
August 18, 2018
Event Venue:
Inspire Church Waikele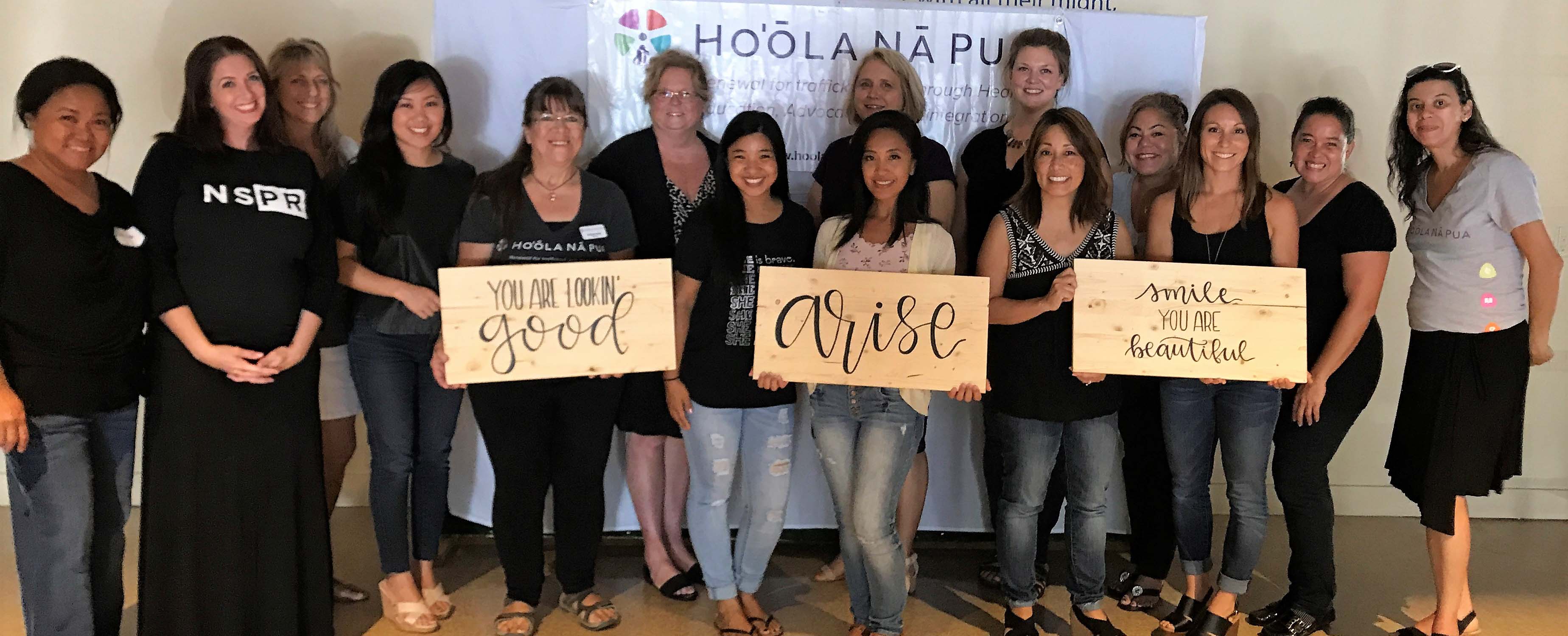 Volunteers are the backbone of Hoʻōla Nā Pua and play an important role in our mission in the renewal of trafficked youth through Health, Education, Advocacy and Reintegration. Volunteers are working professionals, parents, college and high school students, retirees, event organizers, fundraisers, and more. We have several volunteer opportunities listed below.
Follow these simple steps to become a volunteer:
1. Complete the volunteer application at https://hoolanapua.org/volunteer/ and identify the area that best suits your experience, skills, and interest. Please add "Additional Comments" to help us better understand your interests and background.
2. Make sure you've read the handbook, liability waiver, and confidentiality agreement. All volunteers will be asked to 'agree' that they've read all three documents. Do not fill in the documents or scan, email or print them. Just read and click 'agree'.
3. Submit a resume to volunteer@hoolanapua.org.
4. Attend a required volunteer orientation & advocate training, which includes an educational presentation about sex trafficking of minors, an introduction to our organization and volunteer opportunities. Registration is required!
The volunteer application & volunteer orientation & advocate training registration need to be completed by Thursday, August 16th, 2018. Mahalo for your kokua.
Volunteer opportunities include: mentoring, education, advocacy outreach, fundraising, special events, photography/videography, grant research/writing, merchandise/sales, IT/database, administration, and community work days at Pearl Haven.
Please join us! Make a Difference! Be Part of the Solution!
Collectively our volunteers donate over 8000 hours. Volunteering with our team is very special as we work towards a world without child trafficking. Join us!
Please complete the form to the right to register to attend. Space is limited, so please register early.
Check-In Time:  8:30am
Start Time:  9:00am
Aprox Ending Time: 11:30am
Location: 94-877 Lumiaina St, Waipahu, HI 96797
Parking: Free on site
Contact: dianne.bc@hoolanapua.org 
Volunteer Orientation & Advocate Training is required for all volunteers and provides you with a great opportunity to:
 Meet team leaders and fellow volunteers.
 Hear updates about our latest milestones and projects.
 Get involved in our community and church outreach campaign "Awareness with Purpose".
One of the goals of our  "Awareness With a Purpose" campaign is to raise the funds and volunteer hours needed to build a nurturing campus where underage female sex trafficking victims can heal from their trauma. Volunteers on each regional team (North Shore, Central Oahu, Leeward Coast, Windward Side, and South Shore) collaborate on actionable ideas to engage each region's community members (e.g. businesses, organizations, and individuals) in awareness and outreach programs, and further expand that outreach by seeking support through direct donations, sustaining partners, and other creative fundraising ideas.
Hoʻōla Nā Pua strives to match volunteer's strengths and interests with the needs of our organization and to offer you a rewarding volunteer experience. No matter what your strength, skill, or availability, there are many short-term and long-term volunteer opportunities.
Thank you again for your interest in volunteering with Hoʻōla Nā Pua.  We look forward to working with you and in creating a positive experience for you as you engage in the mission, vision, and goals of Hoʻōla Nā Pua.