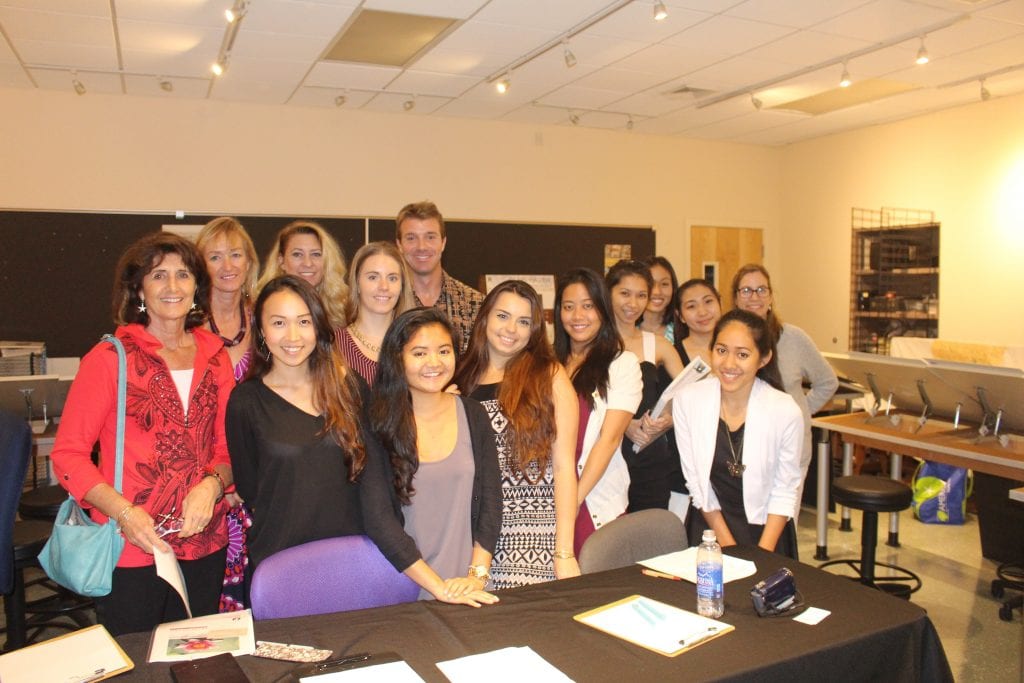 While listening to each presenter describe her vision for Pearl Haven's future aesthetic, one could easily believe that these were seasoned professionals espousing their designs.Yet each of these designers were, in fact, undergraduate students at Chaminade University's Environmental and Interior Design program. In partnering with the university, Hoʻōla Nā Pua's new facility, Pearl Haven, will have the privilege of showcasing some of the students' work. Additionally, the partnership has enabled these up-and-coming designers to work with a unique client.
During a three-hour span, eight students explained how their chosen theme manifested the growth and transformation that Hoʻōla Nā Pua anticipates for the girls who walk through the doors of Pearl Haven. For each of the students, however, that sense of growth and transformation was not limited to their designs; instead it mirrored their own growth as they developed each of their ideas in this semester's final project.
For most, this was their first real client. McKenna Marizuru, whose concept is built upon the complexity and hidden beauty of geodes, rocks and crystals, says, "Before the project, everything was just from our imaginations; we made up our clients. This project had an actual client, so the designing was more personal. We had to do these girls justice."
Additionally, this project introduced many to the reality of sex trafficking within Hawaii, since each student was required to research and watch videos on the topic. Monique Palislo, whose theme reflects Pearl Haven's name, says, "Now I know more in depth about sex trafficking. I knew of it, but I couldn't wrap my mind around it. I still can't."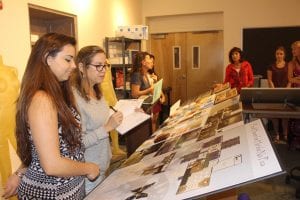 Likewise, Kelsey Williamson observes, "One of the biggest things for me was that I didn't realize sex trafficking was such a big issue. It was interesting; I hadn't thought about its psychological effect on girls. Because of this, I did a lot of research on the effects of space." This attention to space is evident in the careful thought put into her tide pool design, as well as in the details that make her design both safe and welcoming.
This challenge of designing for a residential therapeutic facility—marrying medical requirements with welcoming aesthetics—was one which the students embraced. In designing her ocean inspired layout, Rosalina Ashe says, "I looked up really successful mental health facilities and incorporated some of the design style into Pearl Haven, such as creating multi-function spaces." Marissa Saito, whose work incorporates the idea of a bird leaving its nest, says, "Different spaces require different needs. For example, this is a medical home, so we had to incorporate those needs with being homier, taking into account the girls' emotions."
Such a task was not without its sacrifices. While in the process of creating her butterfly themed facility, Cassie Okimoto notes, "I would estimate that I've spent an average of two hours a day on this project during this semester. Once I was on a roll and spent twelve hours straight on it."
In addition, the process was an emotional one. Gerlie Valdez describes what it was like to visit the site for Pearl Haven, prior to designing. She says, "The first time we walked into the site, there was a lot of shattered walls and glass. I associate that with sex trafficking now—the shattering. It's a dark subject and not a lot of people know about it; I can honestly tell you I cried numerous times while watching some of the videos. We had to think about how to take that darkness and lighten it up—what is a good way for us to bring the light and portray that to the girls? Doing so changed our perspective from a dark one to one of hope." This perspective of hope is evident in her design, which embodies the transformation that a seed undergoes to become a tree.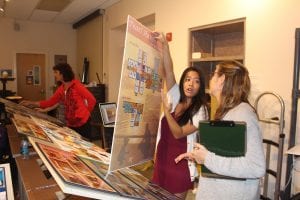 In like manner, this process of transition and transformation is reflected in the lives of the designers themselves. Petrice Goto, whose lotus theme represents the beauty in each struggle, says, "This has allowed me to do something greater than myself and to open myself up to the world."
As the Program Director of Chaminade's Environmental and Interior Design major, Joan Riggs has witnessed each of her students develop through this semester long project. She points out that although the experiences of Hoʻōla Nā Pua's clientele are worlds apart from those of her own students, their similar ages make a project like this hit home.
Lauding the success of each student's process, she observes, "They all had to provide designs that will help girls transform. They had different inspiration, but achieved the same goal. This type of work gives them a sense of purposefulness."
Indeed, each designer's work plays a significant role in moving Pearl Haven from its conceptual phase into reality. Although the final design of the facility will continue to evolve, the work showcased by every student reflects and represents the healing that will take place within the walls of this building.