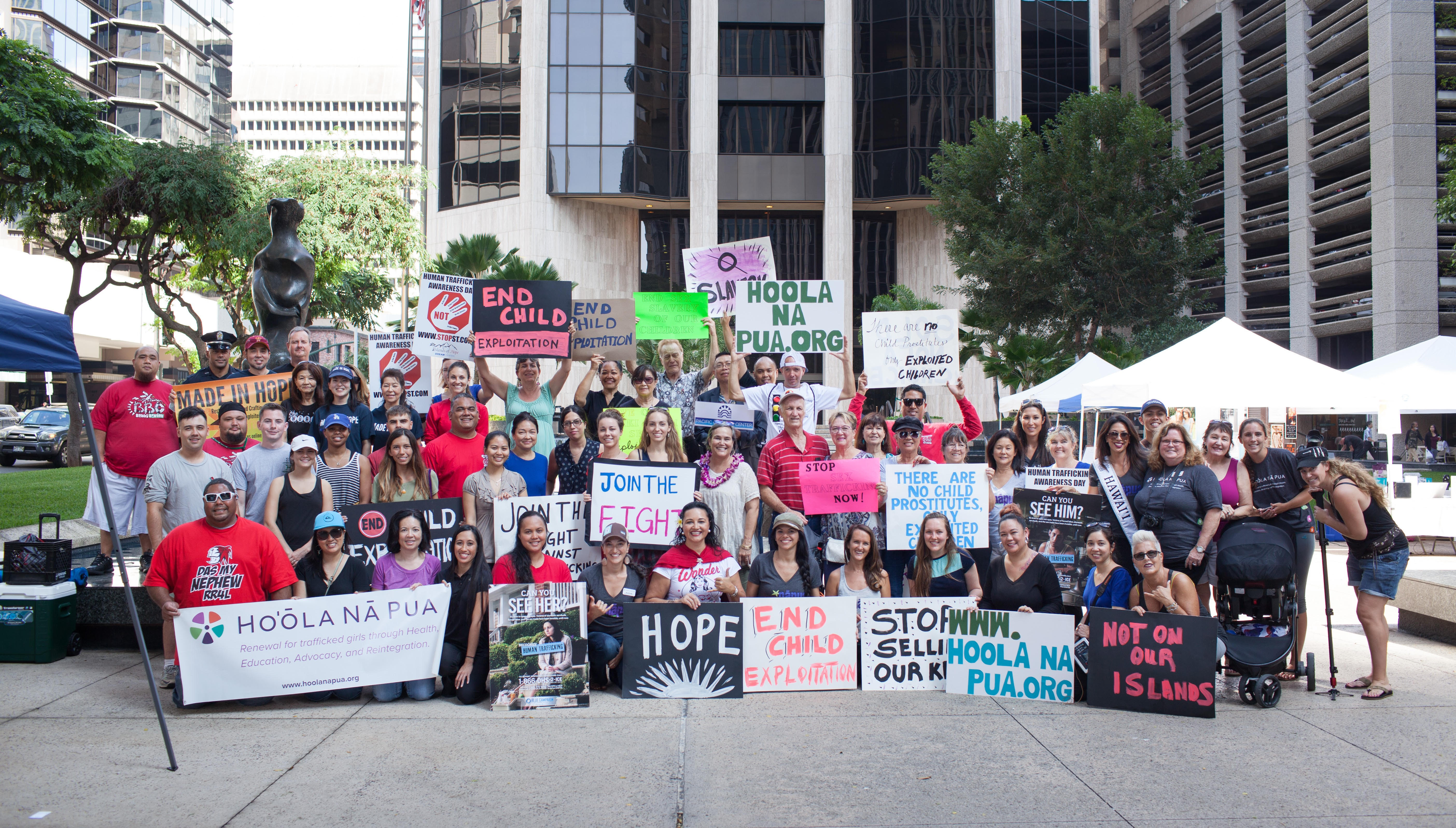 Why Volunteer?
By: Elisabeth Mather, Volunteeer
I recall sitting in an auditorium back in 2014 and listening to Jessica Munoz speak about the urgent need for services to survivors of sex trafficking. After the talk, I timidly approached a volunteer sign-up table and said, "I can write. I don't have anything on my resume that proves it, but I'd like to help."
Since then, I've blogged, written grants, tabled events, and volunteered at several of the annual Pearl Galas.
In the midst of several jobs and graduate school.
Yet for many busy individuals like myself who invest our resources into Ho'ola Na Pua, the answer to the question, "Why volunteer?" is simple—it lies squarely within the mission of the organization.
Help Survivors
As Ho'ola Na Pua grows, volunteers continue to be drawn towards its visionary leadership in ending sex trafficking and its immediate impact upon local communities. Volunteer Licia Hill emphasizes that the organization "addresses a vital need in our community"; likewise, Genel Oganeku partners with Ho'ola Na Pua, because it is "fighting FOR human value because every life matters."
For Pamela Chun, volunteering with the Ho'ola Na Pua is "a blessing because of the heart of the organization to bring awareness to the community about sex trafficking of minor girls in our State."
Sex Trafficking Advocacy
Additionally, many volunteers are prompted by personal experience. Jasmine Baker joined Ho'ola Na Pua after volunteering in the prison system and observing that women who experienced underage sex-trafficking "did not receive help but ended up in a cycle of drugs and petty crime."
Towards that end, Ho'ola Na Pua's four-pronged approach of promoting health, education, advocacy, and reintegration provides services for affected youth, as well as preventative education and community advocacy. Retired San Jose Police Lieutenant Ernie King observes, "From my professional experience, I know that community education is a key component not only in educating the public, but possibly allowing victims to self-identify with what is happening in their or others' lives as a criminal situation and then to reach out for help. As an Educational Advocate for Ho'ola Na Pua, I have personally seen the positive impact our educational outreach has had in the schools."
Sex Trafficking Education and Prevention
Similarly, Elizabeth Nohea Coleman—a Kamehameha Schools alumna and currently a student at  Dartmouth College who participated in Ho'ola Na Pua's public service announcements and its Educational Program Development Teen Review—says, "Teens need to be educated and need to know how to be protected. I hope my small part will have a large impact in helping Hawai'i's teens to stay protected and safe."
Individual Growth
As volunteers sacrifice their time and energy towards Ho'ola Na Pua and the cause of ending sex trafficking, they often find rewards in unexpected places. Renee Perrington recounts her own experience: "All of the activities I participated in not only spread awareness of the issue of sex trafficking of minors, but they stretched and grew me as an individual. I found out that I was capable of more than I thought, that I did have a voice, that I could face the fear of public speaking and overcome it."
Sense of Community
Ultimately, Ho'ola Na Pua embodies the sense of 'ohana that permeates our islands—we are one family and care deeply for each member of this closely knit community. With unrelenting compassion for Hawai'i's youth, combined with strategic, visionary planning, Ho'ola Na Pua has empowered hundreds of volunteers like myself to shape the future of our local community. In joining with its mission, I have had the opportunity to use my unique gifts to advocate for and serve the needs of innumerable girls who have endured far beyond what any child should have to experience. Through volunteer opportunities provided by Ho'ola Na Pua, I have found a place to turn outrage over injustice and passion for social change into concrete action. As the organization continues to grow, I celebrate the progress produced by action with a community of like-minded people.
As Ho'ola Na Pua intern Jade Pham observes, "Servanthood is proven to be a powerful tool for change."
This slideshow requires JavaScript.
---
Be Part of the Solution
Volunteers are the backbone of Hoʻōla Nā Pua and play an important role in our mission to provide a safe campus for underage female victims of sex trafficking in Hawaii. They are working professionals, parents, college and high school students, retirees, event organizers, fundraisers, and more. We have several volunteer opportunities and will have many more in the years to come, as we get closer to opening the home. If there isn't something offered presently that is a good fit with your unique skills and interests, please follow our HNP Volunteer Facebook page to stay updated with our progress and any new volunteer opportunities.