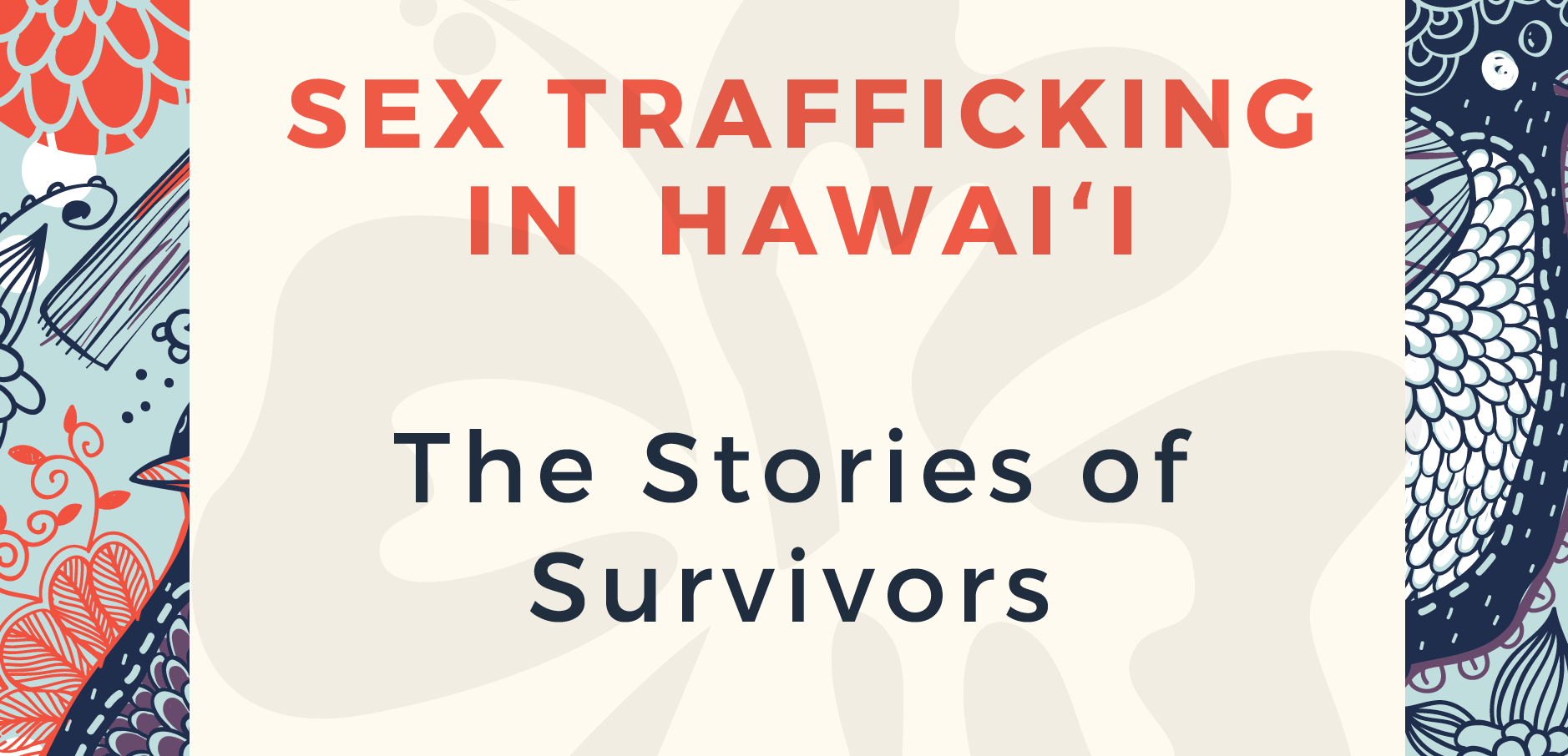 Sex Trafficking in Hawaiʻi: The Stories of Survivors 
Sex Trafficking in Hawaiʻi: The Stories of Survivors
"I didn't ever feel like a victim. I never felt victimized until I started listening to other things that people were saying. And then questioning, what is victimization? That is someone like me. Someone took advantage of me. Someone coerced me. That is somebody like me. And it is so obvious I am a victim. It was because when I was 15 and I thought I had it together and I knew what I wanted and I knew what I was doing and I was down for my man."
"When we called law enforcement to report her missing, they told me "if she wants to be out by herself, then let her."
"You just don't get out of this. That doesn't happen. I would get my ass beat."
-From the participants in this study.
This report is dedicated to the twenty-two brave people who told their stories of pain and survival.
Read the full Sex Trafficking in Hawaiʻi report HERE
Sex trafficking has been found in every state in the United States including Hawaiʻi and in most countries around the world. The global and national dimensions of sex trafficking have functioned to obscure the unique and intertwined commodification of bodies and land in Hawaiʻi. …sex trafficking remains a hidden and silent phenomenon or portrayed as an issue affecting only foreign-born women. Sex trafficking, which is the forced prostitution of an adult or the sexual exploitation through prostitution of a child, is present in Hawaiʻi but the scope of the problem is unclear. This study examines in depth the experiences of victims of sex trafficking in Hawaiʻi.
Funding for this study was provided by the Kaimas foundation.
The study was conducted by:
Arizona State University Office of Sex Trafficking Intervention's Dominique Roe-Sepowitz, MSW, Ph.D. and the Hawaiʻi State Commission on the Status of Women's Khara Jabola-Carolus, J.D.
Please consider donating to help continue to make Pearl Haven a reality.
Be part of the solution! It's with the dedication of our supporters that we are able to advance education, awareness, and action to provide restoration for children rescued from sexual exploitation. Whether you want to volunteer your time, voice, or resources, we've made it easy find a way to get involved with Hoʻōla Nā Pua.
---
You can help survivors of sex trafficking. Donations for sex trafficking to Hoʻōla Nā Pua support Health, Education, Advocacy and Reintegration, which includes our Starfish mentorship program and sustains ongoing operating and Pearl Haven site development costs. Our Federal ID number (EIN) is 46-5139164. Your gift may be 100% deductible from your taxable income.